Choose a Category

Choose from many different layouts and make your personal monogram stamp. Layouts include address, letterhead and stationary. These self-inking stamp are available in round, rectangular and square with several ink color choices.
---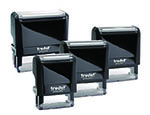 Self-inking stamps have a built in ink pad that automatically inks the stamp die after each impression. These stamps can be easily re-inked.
THE BETTER STAMP FOR QUALITY IMPRESSIONS

---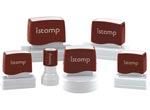 Stamps that have porous ink-filled dies. Requires no Ink pad replacement. Lasts up to 12,000 impressions before having to re-ink.
THE BEST STAMP FOR QUALITY IMPRESSIONS

---

Traditional hand stamps are standard stamps that require the use of a separate stamp pad.
---

Pocket stamps are a portable stamp and are perfect for Notary Public, Inspection Stamps, Signature Stamps, or any application when portability is required. They are compact and are pre-inked or have a self contained ink pad.
---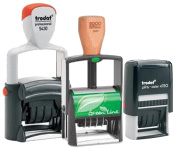 Custom date stamps have changeable bands to allow you to select the month, date and year. They can be personalized by adding custom text above or below the date. Each dater comes with a minimum of ten year bands.
---

We carry a complete line of Notary Public Stamps, Notary Journals, Fingerprint pads and Seals for Nevada Notary and all 50 States.
---

To order a signature or logo stamp, click here, choose Option A and upload your 300 dpi jpg or bmp. For pdf and other files, simply order the "Signature Stamp" template and email art with order number. Originals can be mailed or faxed.
---

Bank Endorsement Stamps are great for corporations and small businesses. Security stamps help to block out personal information and help control identity theft.
---

Click on a Template/Layout and then simply type your information. The border for the seals are set-up for you.
---

Changeable Number Stamps have changeable bands to allow you to select the numbers you need to print.
---

Custom Engraved signs and name plates can be personalized with your information. They are available with sign holders and frames for the desk and wall.
---

Personalized, custom printed name badges are available as engraved or full color name tags. Perfect for Physical Therapists, Medical and Dental Staff, Realtors or Corporate Recognition.
---

The world's most popular seal presses offer unprecedented quality and durability. These seal presses are a favorite with Notaries, Corporations, Engineers and Government Officials around the world.
---

Stamp pads for use with hand stamps, replacement pads for self-inking stamps and Ink for all applications.
---